Welcome to MCC Budapest Summit on Patriotism
Mathias Corvinus Collegium
Danube Institute
Patriotic Talks
Intellectual Online Event Series
Mathias Corvinus Collegium (MCC) runs a ground-breaking initiative by organizing international conferences under the title of "MCC Budapest Summit". These intellectual summits are held annually on different topics, and bring the most famous thinkers, opinion leaders, decision makers to one discussion table.
During March 2019 the summit issue was migration, however this year the pandemic situation has already impeded us form organizing similarly huge events. Therefore, as an adaption to the changing circumstances, instead of a conference, in November 2020 the MCC and the Danube Institute launched an international series of online talks on the theme of patriotism that takes five weeks.
Patriotic Talks: Fifth video

Patriotic Talks: Teaser video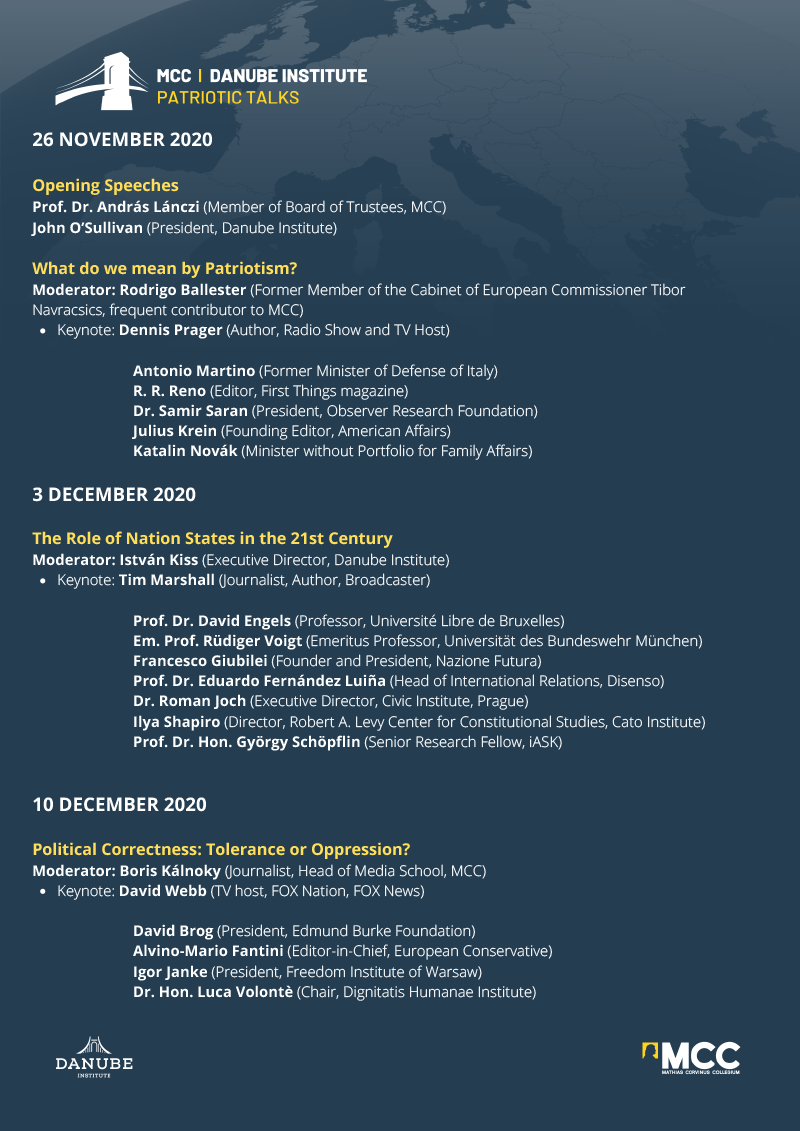 Organizer

The event is organized by Mathias Corvinus Collegium (MCC), which has been involved in talent development for almost twenty-five years and provides free, socially useful trainings across the Carpathian Basin. The trainings go beyond the traditional educational system and are aimed to students from primary and secondary school to higher education or other graduate age groups. MCC is a knowledge centre as well, which, in addition to trainings, intends to participate in the development of public dialogue and culture through its events, conferences, books and public communications. For more details on the institution's diverse range of activities, please visit our website.

MCC supports young people, committed to the country, eager to make a contribution to the local communities and feeling responsible for their fellow-countrymen and the environment, in unleashing their talents – irrespective of their social and cultural circumstances – and in harnessing their talents for their own benefit and later on for the benefit of all Hungarians.

We allow young people to learn from the most excellent instructors, to be open to the world, be familiar with international processes while being patriots and to represent such values and attitude that are forward-looking and definitive with regards to the fate of the Hungarians living in the Carpathian Basin and the future of the whole of Europe.


Co-organizer

The Danube Institute was established by the Batthyány Lajos Foundation in 2013 in Budapest, with the aim of encouraging the transmission of ideas and people within the countries of Central Europe and between Central Europe, other parts of Europe, and the English-speaking world.

The Institute itself has been committed from its foundation to three philosophical loyalties: a respectful conservatism in cultural, religious, and social life, the broad classical liberal tradition in economics, and a realistic Atlanticism in national security policy. More recently, we have added a fourth commitment: exploring and extending the related concepts of democracy and patriotism.

Our methods of developing and transmitting these ideas are research, analysis, publication, debate, and scholarly exchanges. We hope to draw upon the best minds of our day across national boundaries in international forums.


Official media partner